Cambodians Say THANKS! for Our Programs
Three letters are included here. The first one comes from Uknha Khnour Kay Toam, the Cultural and religious leader of the entire Imam Sann Cham people within Cambodia. We also work together with him in our Cham Literature project. It reflects the value of our project as seen by one of the nation's most influential Cham leaders. We also cooperate with https://best-writing-service.com/personal-narrative-essay so we are provided with narrative essays online that are a quality addition to our programs.

The second letter comes from one of the English Language students in Sre Prey, while the third letter comes from one of the University Scholarship students. Each describes how the Fund and the opportunity for education has made a difference in their life.
Uknha Khnour Kay Toam's letter:
Kingdom of Cambodia
Nation Religion King
N: 090/11 UKH
Dear Founders: Dick, Wynne, Miles, Isaac, and Jeffrey,
Your donation for the past several years is very important for us. It has made a lot of progress to our Cham Imam Sann communities because many students can speak English with visiting foreigners. Now, I don't have any difficulty to find children speaking English like it used to happen in the past. This has made a great change to our communities as our first time.
Your scholarship offered to students every year is extremely significant because students have never been able to afford for high quality studies at very good universities. I hope that they would become great human resources in the future. What has made me more delighted is the news we heard about your plan to support our Cham language teachings.
As a leader of the Cham Imam Sann communities and speaking on behalf of my people, I would like to express my gratitude to all of you who have considerably supported our poor communities. I hope you would continue helping us.
Finally, I would like to convey my great thanks to all of you, Dick, Jeffrey, Wynne, Miles, and Isaac, and wish you happiness, prosperity, and success.
Done in Sre Prey, 29 September 2011
Leader of Cham Imam Sann Communities in Cambodia
Ukhna Kay Toam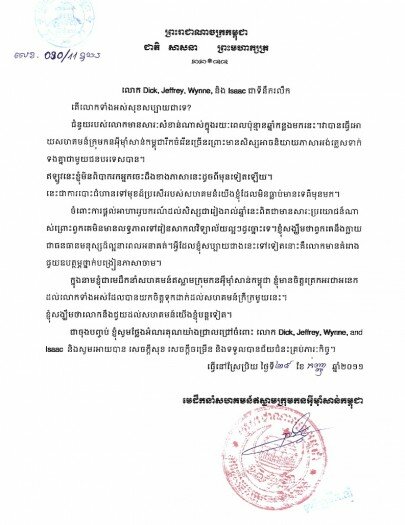 This second letter comes from a girl who began studying in our English Program when it first began in 2005.
She addressed it two two of the Fund's founding Board members."Dear Wynne and Dick,My name is Teymas Sa, but you probably remember me as Kimas from the English classes. In 2013 I graduated from college with a bachelor's degree in Marketing and I am currently employed at a consulting company in Phnom Penh, but it wasn't always clear that I would have a life like this.
Not many years ago, I couldn't attend primary school regularly because at that time my family didn't have enough money to support my studies. At that time I felt hopeless; I thought that I wouldn't have a chance to study like my friends. Sometimes, I dreamed about going to school but when I woke up it was not true at all, and I cried wondering why I had to be poor like that. I always cried but I couldn't do anything.
Everything changed for me in 2005, when there were funds from your group to support English classes at Sre Prey and I could be hopeful again. I determined that I would try my best, I would study hard. From then on, I worked very hard at studying English. During the rice harvest season, I had to run from our farm for 2 km to go to study. Sometimes I was late. My teachers Husen and Leb Ke always gave me good advice and encouraged me. Both of them are great teachers who always encouraged me to continue to college. When the time came to make that decision I was aware that there would be many obstacles, but I felt I had to go and I would not give up.** Finally, my dream became true. I graduated from college and I got a job where I can put my education into practice and I speak English every day.
Still today I cannot control my tears when I remember how hard it was. I am so proud of myself that I could get to this point, but above all I am thankful to you for providing me with the opportunity to learn English, which made everything else possible.
I want to thank you for supporting not only me but my community.
I wish you have good health, good luck and all best things come to you.
Best regards, Teymas"
**Kimas was in the very first, tiny group of students who graduated from high school and our English Program and who somehow secured private funds to pay for university in the year before two of the Founders revisited Sre Prey, and based on this little group's story and the excellent English skills of the children established our formal University Scholarship program.
This third letter is from Man Piseth, a second year University Student and scholarship recipient.
Dear Dick, Jeffrey, and Wynne,
This is Piseth here in Cambodia. My family and I are keeping well, and how about you? I hope you are keeping well also. I think you worry so about us and you are trying hard to find some way to support us. Although I know about this but I still need your help as does my community also.
Now let me tell you something about myself as well as my community. Ten years ago my villagers did not know or understand anything about development, education or anything that related to improving their lives. Because they didn't know better, most of them did not let their children go to school. At most, they wanted their children to go to Imam's house and learn religious Cham Script. We all spoke Cham and no one in our community spoke English and even Khmer they spoke badly. I remember that in 2005 you and your friend set up a small Teaching English Program at the mosque and at that time I was really interested because I never knew at all about English. But my family did not want me to learn.
Perhaps you never knew that I was a dropout from school for two years (2005-2007) because my family was poor and I needed to work with them farming. But I started studying again in 2008 in ninth grade at the provincial school, it's about 40Km [24 miles] from my house. After I finished ninth grade I transferred my high school from the provincial to my district. So, do you know what happen during that time? All my villagers start to think about English, they wanted their children to go to your English class and all the students in the villages who studied English started to practice.
In 2009 I got a scholarship from the English Access Micro Scholarship Program that is supported by the U.S embassy in Phnom Penh and studied in this program for two years. In 2010 I worked as a volunteer staff for my community in the "Cham Heritage Preservation Project" that is supported by the U.S embassy also. Through this project I have got a lot of experience about using computer, printing document, scanning the old Cham documents as well as compiling them to keep for the next generation, especially for the social life and my community's need. I am still a volunteer for my whole community. I always help my community's leader (Ukhna Khnour) and when my community has a meeting I try to join them and give some suggestions as best as I can.
My community's leader was really happy because nearly all of the students in his community could speak English and can help the community with the social work. When foreigners come to the village he doesn't worry anymore because teacher Husen's students can help him every time. So we don't worry anymore about communicating with foreigners.
All above that I had written are just the good news. So let me tell you about some bad news. The one that my community really worry is about Cham Script. No one wants to learn Cham script any more now, they just study English, Korean, or any languages that can help them to improve their work. They just think about money to support their family. In my opinion I would not force them to learn Charm script, but I just want to find something that can attract them to Cham script because when someone is interested in something they will do it. I try really hard to think about ways of doing this but I could not reach any yet. I got some unsuccessful activities but I still try to do it and hopefully I will be successful at the near future. Another problem is that all the Imam teachers in my community are very old so it is really difficult for me to interview them or discuss the old Cham documents. Recently I have asked them to read the old Cham script and I try to record it and print it as CDs. There are a few Imam that can read all Cham old words but they are so old that it is really hard to ask them. I just try to do this step by step and it is really slow.
Although all this work is really hard I never tire to do it. This is the same as you. You have helped my community a lot, you have sent so much money for my community, you always think about my poor community, but you never got anything from us. I could speak some English, I could study again at public school, I could attend at the University, I could help my community, all of theses are the are the best events in my life. But how could it happen to me if there was no small teaching English program at my community. You are the only one and the first one that lead my life to become better and will become the best in the future. So I will follow your step to help others like you have helped me.
All in all I wish you have a happy long life and god bless you forever, that your work will be successfully.
Best regard,
Piseth
This final letter comes from an 11th grader who had studied English for 3 years with us.
Hello! My name's Sun Hasann. I am very happy that I have a chance to write to you and I want to say "Thanks!" to you again that you have supported me and other students to have a chance to study.
I am very happy what I can become today because of your support. So I try to study hard to have a good future. One more thing, if I have enough ability I want to teach English to the next generation. Nowadays I teach this language to my niece and my nephew. I want them to speak, read and write English. English is very important for me. I like studying it very much.
I have a nice picture that you sent last Christmas with good advice and moral force. I hope you continue to help me and other students to study. I wish you and your family best of health, happiness and good fortune.
Yours sincerely,
Sun Hasann